Stormy Weather and Your Trees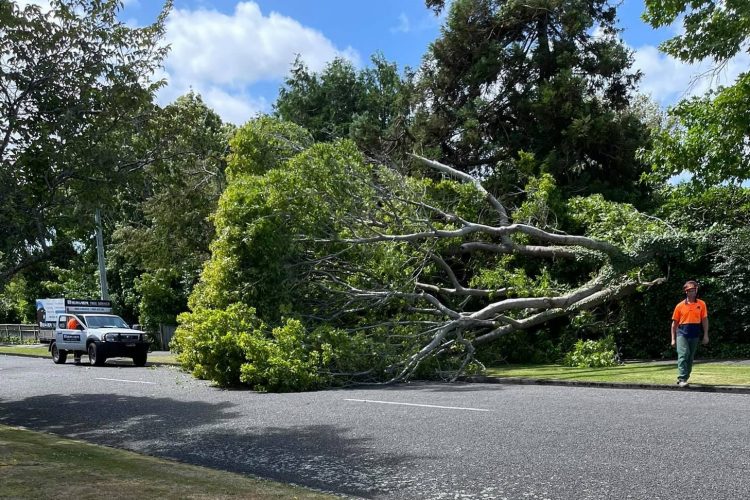 Stormy Weather and Your Trees
As summer eases into autumn, we will start to see an increase in stormy weather, with high winds and lots of rain.  While this can feel like a respite from the blazing summer sun it can also be detrimental to any trees on your property.
Every year trees that may be old, diseased, or dead, can suffer in bad weather and either lose branches or fall.  The last thing you want is a large tree to drop a branch on your car or fall on your house!
As arborists, we can advise people on the potential risk of having a large tree, whether it is showing signs of decline or completely healthy.  Some trees can weigh up to 10 tonnes and can cause significant damage when they fail.
Often removing some of the weight from a tree can lessen the chance of that tree failing.  By selectively removing branches you can minimise storm damage by allowing the wind to pass through the tree, rather than pushing at it.
Some trees are more susceptible to falling than others.  A tall single leaded Redwood or Poplar can be a lot stronger than a multi-branched Liquid Amber.  Trees also grow a lot quicker in New Zealand's climate and therefore are not as stable as their counterparts in the northern hemisphere.
Arborists specialise in the care of individual trees. They are knowledgeable about the needs of trees and are trained and equipped to provide proper care and advice. They understand what is happening for your tree and can see many things they untrained eye cannot.
If you have a large tree, or trees, on your property that you would like some advice on let us know, and we will arrange a time for one of our arborists to visit.
Bryce Robb is Director/Head Arborist of Beaver Tree Service
We have branches in Christchurch, Wellington, Kapiti & Horowhenua, Palmerston North & Manawatu and Taupo. We provide a variety of services including, tree pruning, stump grinding and tree removal.